Implant-Supported Dentures: Securely Complete Your Smile
---
If you suffer from extensive tooth loss, you understand how difficult it can be to perform daily tasks such as eating and speaking. Although conventional dentures can help restore form and function to your smile, Drs. Abid Paghdiwala and Murtaza Paghdiwala recommend implant-supported dentures for added stability, improved oral health, and superior aesthetics. Unlike traditional dentures, implant-supported restorations will never slip out of place or click when you talk. Our doctors can perform your entire treatment, from implant placement to the delivery of your final restoration, at our two practice locations in Levittown and Newtown, PA.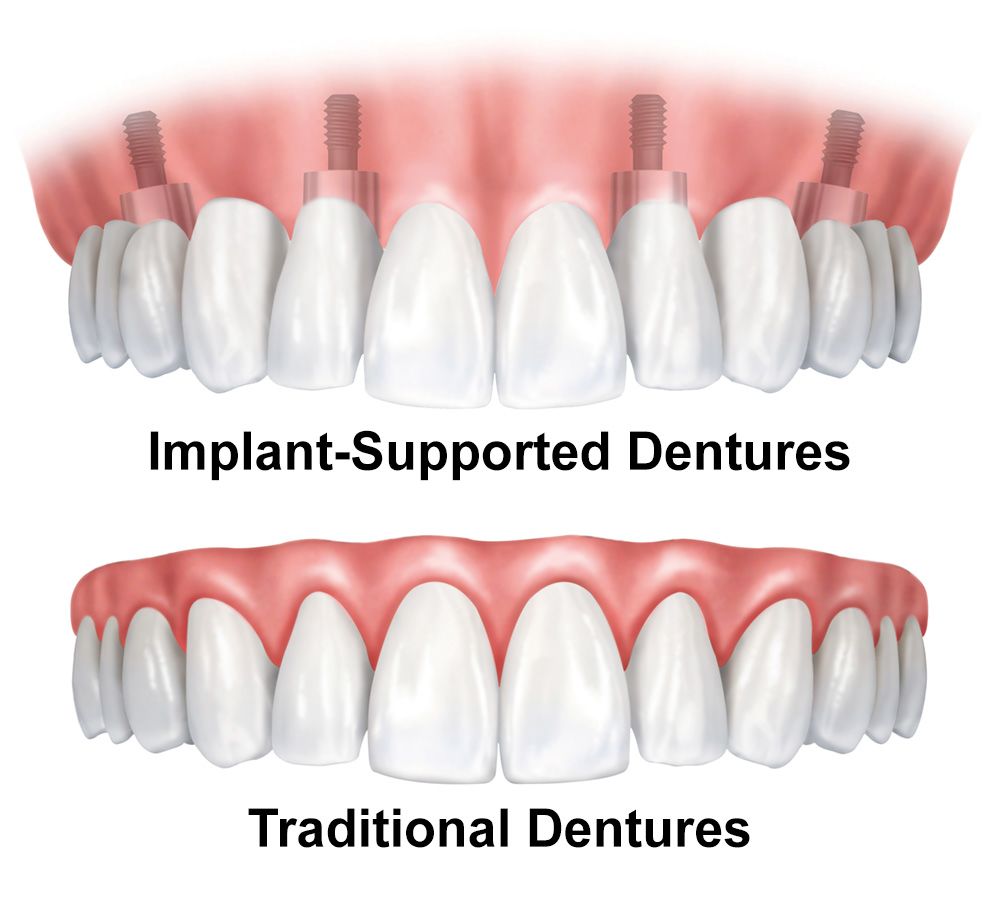 Implant-Supported vs. Standard Dentures
There are a number of benefits to implant-supported dentures over traditional dentures. These include:
No adhesive needed: While traditional dentures are held in place by dental adhesive and natural suction, implant-supported prosthetics are affixed directly to your jawbone via dental implants.
No noises: One of the disadvantages of dentures is that they are prone to clicking noises when you eat or speak. Because implant-supported restorations stay in place at all times, they do not make noise.
Added security: If you are afraid that your dentures will slip out of place or fall out of your mouth, implants may be right for you.
Superior aesthetics: Because implant-supported dentures do not rest on your gum tissue, they use less of the plastic base material that makes up the palatal portion of the denture. This allows them to look more natural than traditional restorations.
Improved jawbone support: Your new implants will carry regenerative signals to your jawbone and prevent bone resorption and changes in your facial structure. These changes naturally occur after tooth loss.
If you already have a denture in good condition and are considering switching to an implant-retained denture, our doctors can help determine whether it can be converted.
Implant-supported dentures are considered the gold standard in tooth replacement. Financing is available.
The Treatment Process
Treatment generally spans several months but offers life-changing benefits.
Your Initial Consultation
During your consultation, one of our doctors will examine your oral and overall health to determine whether you are healthy enough for dental implant surgery. Based on your exam and digital x-rays, we will also decide whether you need bone grafting prior to receiving implants. If any of your remaining teeth are infected or beyond repair, we may also perform an extraction.
Dental Implant Surgery
We perform fully guided implant surgery using a combination of digital x-rays and 3-D printing. Fully guided surgery makes implant placement faster and more precise, while dramatically lessening your risk of complications. For most patients, we can place implants and provide temporary restorations on the same day.
Healing and Recovery
Because we use a fully guided surgical technique, you can enjoy a more comfortable, shorter healing time. After surgery, you will need about four to six months for your implants to fuse with your surrounding jawbone. This process is known as osseointegration.
Receiving Your Restoration
When your implants have successfully osseointegrated, you will come back to our office to receive your final restoration. We custom-make all of our dentures so that you can enjoy prosthetics that look, fit, and feel great. Depending on your needs, your denture may be:
Removable: This snap-on restoration can be removed nightly for easier cleaning and maintenance. However, it stays securely in place during the day.
Fixed: Otherwise known as a fixed bridge, this type of implant-supported restoration cannot be removed by the patient.
Whether you choose a removable or fixed restoration, you can enjoy increased stability, aesthetics, and preservation of your jawbone.
Speak to a Doctor Today
Implant-supported restorations are considered the gold standard in tooth replacement. Thanks to our various financing options, this treatment is more attainable than ever before. To find out if you are a good candidate for implant-supported dentures, call us at (215) 949-8000 or message us online.
"Getting dental implants has changed my life. I can now eat steak with my dentures in! I would recommend Pearl Dental Arts to anyone with apprehensions about finding the best dental care."

Satisfied Patient