Missing teeth can make life difficult in many ways by compromising your health, appearance, and confidence.
Dental implants replace tooth roots to support restorations, protect your oral health, and make your smile whole again.
Find out why patients throughout Newtown and Levittown, PA, come to Pearl Dental Arts for this solution ...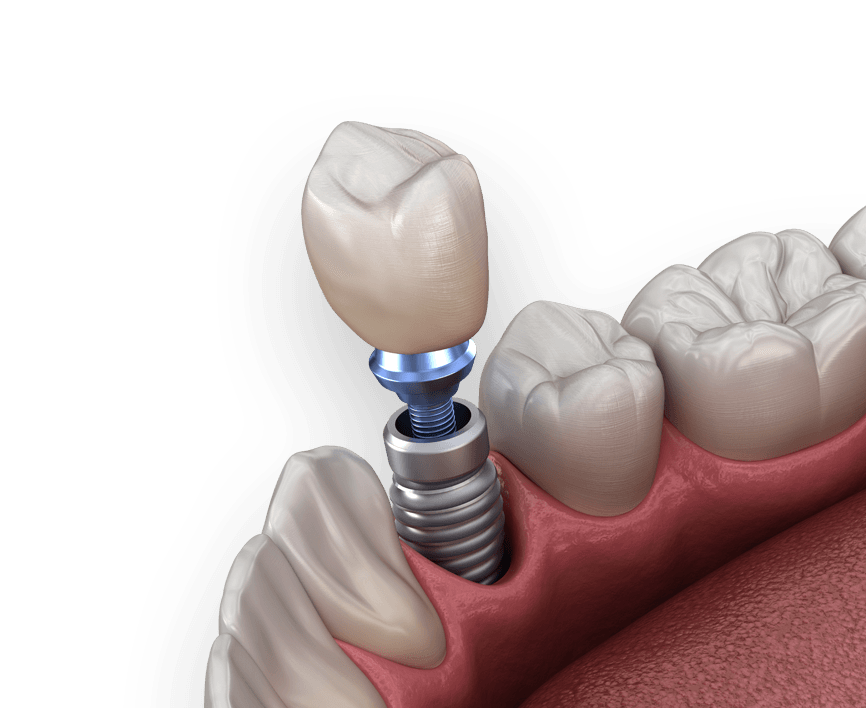 Improve Your Oral Health
& Quality of Life
Built to Last a Lifetime
Traditional
dentures
, supported only by the gums, or crowns and bridges on your own natural teeth will need to be replaced periodically. In contrast,
dental implants can last over 40 years with proper care.
Although the denture or bridge supported by the implants will need to be replaced from time to time, this will occur with less frequency than with traditional dentures.
Jawbone Retention
Tooth loss leads to atrophy of the jawbone. Not only does this cause oral health issues, but it gives the appearance of an aged and sunken face. Currently, the only treatment available in dentistry that can stop bone atrophy after tooth loss is dental implants.
Restore Confidence and Function
Traditional dentures slip, so users often experience clicking and smacking. Dentures also require messy adhesives and need to be periodically repositioned. Implants not only give patients a smile they can be proud of, but they allow the toughest foods to be chewed with ease. Like with natural teeth, patients with dental implants can eat an apple while having a worry-free conversation.
How Dental Implants Are Placed ...
Many people like you are suffering from compromised smiles...
What Are Dental Implants?
Natural teeth are held in place by tooth roots. Traditional restorations, such as dentures, only replace the portion of the tooth that is visible above the gum line, but dental implants replace the root of a natural tooth. A new crown, bridge, or denture can then be secured to the top of the implant using a connector piece called an abutment.
Recent advancements in the field of dentistry allow dentists to place implants with a 95 percent success rate. This impressive rate is higher than any other tooth-replacement therapy available in Levittown or Newtown today.
The Highest Quality Materials
At our office in Levittown PA, we use dental implants made of dental-grade titanium. This high-tech material is used because titanium is compatible with your natural bone. This allows bone tissue to fuse with the implant, creating an extremely strong and reliable foundation on which our dentists can create a substitute for any missing teeth. After the titanium has fused with the bone (a process known as osseointegration), an abutment is attached to the implant. Your restoration will be attached to the abutment.
Why Choose Us for Implants?
Advanced Training & Technology Improve Results
Dental implants are an area of expertise for our doctors, who have nearly two decades of experience placing and restoring implants. Both dentists have achieved the highest levels of certification and stay current with the latest developments in implant dentistry so that they can provide patients with the best in dental care.
ICOI Certification
Dr. Abid Paghdiwala has earned a Mastership in Dental Implantology from the prestigious International Congress of Oral Implantologists (ICOI). He has attended hundreds of hours of continuing education and certification to be able to place dental implants using proven methods. In addition, Dr. Paghdiwala uses only high-quality titanium and the most advanced implant systems to provide reliable and safe clinical treatment.
Convenient Services in One Place
Because our dentists have extensive dental implant training, the majority of our implants are placed and restored in-house, so you won't have to worry about inconvenient referrals.
Do You Want to Know More?
Request a Dental Implants Consultation
Every dental implant case is unique. If you have missing teeth, we recommend that you schedule an appointment with Pearl Dental Arts so that we can discuss your individual needs. By examining your mouth and discussing your goals, we'll be able to recommend the options that are suitable for restoring your smile. Even if implants aren't right for you, we can offer traditional dental solutions like bridges and dentures.
We are located in Levittown PA
A 5-Star Review For Implants
"I have had extensive dental work and my bite was never aligned correctly until I decided to have implants to replace teeth that required removal. I am very please with the work and my implants have been correctly aligned with my natural bite. I highly recommend Pearl Dental, their first priority is to retain your natural teeth as much as possible."

Stephanie B
Dental Implant Treatment Timeline
While each patient's case is unique, dental implant treatment always follows similar general steps. Your timeline can vary slightly if you need preparatory procedures to overcome issues with
gum disease
or
poor bone density
.
Dr. A. Paghdiwala got a Fellowship in implant dentistry in 2009 and was awarded his Mastership in implant dentistry in 2012 by the International Congress of Oral Implantologists.
Dental Implants Candidacy Factors
Bone Health
Your jaw must have enough healthy bone tissue to support the implants. Jaw atrophy follows tooth loss, so if you have waited too long, you may need a bone graft before implants can be placed in your jaw.
Health Issues
Habits such as smoking and health conditions such as uncontrolled diabetes can compromise your ability to heal after surgery. Conditions like these must be managed before implant surgery.
Periodontal Disease
If you have gum disease, it will need to be treated before you can undergo dental implant treatment. In addition, you should practice good oral hygiene habits after your surgery to avoid implant failure.
Still Not Sure Implants Are Right for You?
Contact Us to Learn More
Patients visit our office in Levittown PA all the time with questions about dental implants. Common questions include:
What type of dental implants do I need?
I have a few health issues. Can I still get a dental implant?
What if I'm nervous about oral surgery?
What will a dental implant cost me?
Because every case is unique, the best way to get answers to these important questions is to request a consultation with our dentists. We recommend you come see us in person so we can help you understand all aspects of implants, whether they are right for you, and if you qualify for the treatment.
Scheduling a consultation with Pearl Dental Arts is easy. You can fill out our online appointment-request form, or simply give us a call at:
215-949-8000
"Still Happy a Decade Later"
More 5-Star Reviews for Dental Implants
I have been coming to Pearl Dental Arts since 2003. I wanted to find a dentist who would perform dental implant Dr Paghdiwala was and is still amazing. I have had my implants for 16 years now with not a single issue.His entire office is always so professional and caring. I drive more than 60 miles to have his service. It's worth the commute.If you are unsure about any dental service trust the team at Pearl dental arts you will never be disappointed.
Still happy a decade later
View On Google
...Before seeing the staff at Pearl Dental and after consulting several local dentists, I was resigned to having poorly fitting dentures as the cost of implants could never be reasonably estimated. Dr. Paghdiwala was the ONLY dentist who was able to discuss and estimate the costs, making implants that were affordable. Further, the procedure was completely pain free and Dr. Paghdiwala is such a perfectionist that he designed implants which work better for me than my natural teeth. In short, I can now eat foods that I have been unable to eat for many years. I have recommended Dr. Paghdiwala to others and will continue to do so - he is simply the BEST.
View On Google
How Much Do Dental Implants Cost?
Because every smile is different, the cost of dental implants varies widely from case to case. The primary variables are the number of implants you require and the type of restoration they will support.
During your consultation at our Levittown, PA, office, our dentists will assess your case and provide a final cost estimate.
We Make Dentistry Affordable
on Every Budget
Because they are one of the most advanced dental treatments available, implants cost more than alternative solutions. However, our Levittown and Newtown doctors want every patient to be able to enjoy the benefits of these innovative solutions. To make this possible, we offer several financing options, including:
Insurance
We accept most dental insurance plans. Today, most insurance plans will at least contribute to the cost of your restoration.
Credit Cards
We accept all major credit cards and encourage you to use a credit card that offers points for every dollar spent.
Flexible Spending Accounts
If your employer offers flexible spending accounts, or FSAs, you can use your benefits here at our offices.
Third-Party Lenders
We gladly accept financing through CareCredit®, a third-party lender that offers low-interest, flexible repayment options.
Pearl Dental Arts Membership
If you don't have dental insurance, our in-office membership plan gives you access to discounts on all treatments at a low monthly rate.

Dental Implant Saved Nearby Teeth
"I am glad I went to Pearl Dental Arts for a second opinion. Dr. P. disagreed with placing a bridge in my mouth because I am so young (I was 28 at the time). He explained that all dental work will last about 10-15 years (like my crown did), and that he wanted to take a much less invasive approach to my mouth. He started by pulling the tooth, and implanting bone material that would be assimilated by my jaw in order to build up the damaged tooth site. He then implanted a new tooth, and I love it. I am so glad that he didn't have to damage any of my other teeth!"

Thomas O'Reilly
Why Should I Replace My Teeth?
When you lose a tooth, it is important to fill the space as quickly as possible for a number of reasons, including:
The teeth adjacent and opposite the lost tooth will shift into the toothless area
Aesthetics will be compromised
Speech can be affected
Food will get lodged in the open space, causing further decline of oral health
Bone loss can occur in the jaws, limiting treatment options in the future